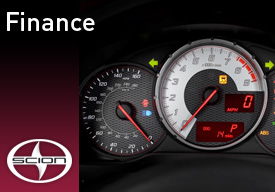 Phone: (608) 754-7754
Monday: 9:00 AM - 8:00 PM
Tuesday-Wednesday: 9:00 AM - 7:00 PM
Thursday: 9:00 AM - 8:00 PM
Friday: 9:00 AM - 8:00 PM
Saturday: 9:00 AM - 5:00 PM
Sunday: Closed
Make It Your Own
Our finance staff works with a vast array of lending sources in order to satisfy our customers' financial needs with the most complete and comprehensive financial packages available. Our finance staff works diligently to maintain our goal of 100% customer satisfaction.
New and used car financing is available for all Scion cars. Stop in today and take advantage of our financing programs for the Scion tC, xB and xD.
Are you worried that your credit history will hold you back from owning the vehicle you want? Don't be! We can help you obtain the credit you deserve. We also have first time buyers programs for those of you that currently have no credit established.
At Hesser Scion, we are committed to helping you when others have tried and failed. For immediate review, please contact us.